How to Buy Bitcoin in 5 Steps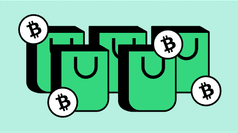 Buying Bitcoin is just as easy as exchanging euros for dollars. With this beginners guide, you'll have all the information you need to buy and sell Bitcoin in minutes.
Did You Know?
Bitcoin is a new currency, created in 2009. It is free, anti-inflationary and can be bought, sold and traded anywhere in the world.
1. Sign up to the Young Platform exchange
All you need to get started is an exchange account. What is that? Just like your savings, for cryptocurrencies, you need a 'crypto account', properly called a 'wallet'.
Here you can make purchases, sell cryptocurrencies, monitor your returns and withdraw your money to your bank account at any time. Unlike the financial markets, the cryptocurrency market is open 7 days a week, 24 hours a day. What's more, any transaction is executed within minutes.
2. Secure your credentials
Protect your credentials – after all, we're talking about your money. You can make your account even more secure by enabling two-step verification with an Authenticator app.
If you lose your password, don't worry. Our support service will help you recover your data and get you back up and running in minutes.
3. Verify your Identity
Keeping your bitcoins safe is our priority. Completing identity verification allows you to activate your account and you can request higher levels of security to move large amounts of money around the platform.
Once you have confirmed the email you signed up with, log in to your account. On the homepage, you will immediately see the banner to complete the procedure.
It only takes ten minutes to get started!
Take a valid identification document: ID card, passport or driving licence.
Upload 2 photos of the document: one front and one back. Otherwise, take it directly with your phone
Take a selfie
In 5 minutes the verification will be automatically completed.
4. Deposit funds to start buying bitcoin
Deposit the amount you want to exchange for bitcoin into your account. With a transfer from any bank in any country, you will get your funds within 3-5 working days and without any additional deposit fees.
Trading from Italy? There are more options!
Isn't this amazing? You can start with only 20 euros
5. Buy Bitcoin
That's it! There is only one move left to make. Now that you have topped up your account you have the funds to buy bitcoin.
Did You Know?
Bitcoin's price scares you? You can buy even small parts of it. Like eurocents, bitcoin is also divided into cents, called Satoshi.
On the homepage, you'll see a panel on the right, that's your operating area. If you're using the mobile version, press the Exchange button to open it.
Here you choose the currency from the drop-down menu, enter the amount and go to the purchase summary. You will see the counter value in bitcoin: that's the amount you are buying.
And now what?
Monitor the performance of your portfolio
On the home page, you have everything you need to monitor the performance of your portfolio. The total balance shows the value of all the cryptocurrencies you own and the percentages show how you have distributed your funds. The value is updated in real-time and you know at a glance whether you are making a profit or a loss.
Get inspired
Bitcoin is just the beginning. Thousands of cryptocurrencies have emerged over the past decade and we have selected the best ones for you. Find out about the teams that created them, the price history and the latest news in the Markets section.
Convert your Bitcoin in Euro
Converting your bitcoins into euros is child's play. Go back to the panel in the home section and click on "Sell". Enter the amount to see the value in euros. Check the summary and proceed, the money will be credited to your Euro Wallet. At this point, you can decide whether to buy more cryptocurrencies or to move your money to your bank account. In this case, click on the Euro Wallet and click on the Withdraw button, enter your IBAN and the required data. Within 2-5 working days, the transaction will be executed by the bank.