How to Buy Bitcoin in 5 Steps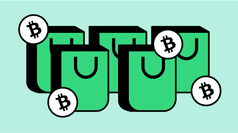 Choose an identification document: ID card, passport or driving licence.
Enter your first and last name as it appears on the document
Enter the data of the chosen document
State the purpose for which you will use Young Platform
Upload 2 photos of the document, one front and one back. You can take them directly from your phone
Take a selfie, remember to smile!
Credit or debit card – instant, 2.2% fee + €0.25;
Ordinary or instant transfers – 15 minutes to 5 working days, free of charge;
Apple Pay or Google Play – instant, 2.2% fee + €0.25;
Satispay – instant, 2% fee + €0.2.
Select ⇆, the central action among the sections at the bottom, next to 'wallet';
Click '+ buy';
Select the cryptocurrency you want to buy;
Enter the amount in euros you want to trade. Please note: every cryptocurrency has a 'minimum order', for BTC this is 12 euros.
Press 'continue' and check the data again, scroll up to confirm the purchase.