How does a Bitcoin ATM work and is it worth using?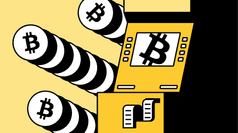 Traditional ATMs are linked to a bank or financial institution and are usually used to withdraw cash. So-called Bitcoin ATMs, on the other hand, only issue cash in the event of a sale (if supported) and are not linked to a bank, but to an exchange, i.e. a portal to buy and sell cryptocurrency.
If you've been to North America recently, you've probably seen them, as 92% of these machines are located there, but there are about 1200 of them in Europe too, with the UK at the top of the list.
Not only do they dispense Bitcoin, sometimes these ATMs also provide other cryptocurrencies such as ethereum and litecoin.
The most advanced models are compact and can also be placed on a counter. They are connected to the internet and, through software provided by the manufacturer, to online exchanges. Some models authenticate customers through biometric data such as fingerprint or iris.
How a Bitcoin ATM works
Let's take a general look at how a common cryptocurrency ATM works, without going into the steps specific to each machine, and which depend on the manufacturer.
Of course, you should not expect this kind of ATM to magically dispense physical coins with the bitcoin symbol engraved on them. What it will do is send the newly purchased bitcoins to your cryptocurrency wallet.
Already having a wallet that supports the cryptocurrency you are buying is certainly more convenient, but if you don't have one, many bitcoin ATMs will generate a new wallet for you.
Consider that since you have to move to get to the Bitcoin ATM, it's definitely more convenient to have the mobile app version of your wallet on a smartphone, so that you can safely store the new cryptocurrencies.
Once you reach the Bitcoin ATM, the machine works like most ATMs, where you select what you want and pay with the available method.
In addition, some machines may require identity verification prior to purchase for compliance.
Fun fact
Mike Tyson realised the potential of Bitcoin back in 2015. He was so excited that the same year he formed a partnership with Bitcoin Direct, a producer of Bitcoin ATMs decorated with his iconic tattoo.
Selling and sending money with a Bitcoin ATM
Fewer BTMs also offer sales, so it's a good idea to find out about the model close to home before using it to convert bitcoin to fiat money (euro, dollars, pounds).
Another available operation is sending money between different countries via Bitcoin ATMs located in different cities. However, this operation requires that the recipient also has a wallet, and finds a BTM that supports the sale, so it has several barriers to entry and it would be easier to do a wallet-to-wallet transfer with an app.
Bitcoin ATMs fees: is it worth it?
The main disadvantage of cryptocurrency ATMs is that they are very expensive in terms of fees. Typically, the fee for a single purchase and sale is around 10%.
Also consider that a fee will be charged by the blockchain to transfer the purchased bitcoins to your wallet, which is unavoidable.
So if for example, you buy bitcoins with €100, you will end up with less than €90 worth of bitcoins.
Taking into account the expense required to install and maintain a Bitcoin ATM by the producing company, this is understandable.
In fact, the purchase of the machine requires an investment of a few thousand euros (3000 to 8000).
Not only that, but there are also high maintenance costs:
The maintenance of the hardware and software
constant internet connection
the percentage owed to the online exchange that allows the conversion of cryptocurrencies
In order to recoup these costs, it is essential to require very high fees and minimum limits on amounts. Also bear in mind that not many people use these machines, so the company can only count on a limited number of purchases over a period.
Bitcoin ATMs vs. Exchanges
However, you do not have to use a Bitcoin ATM to buy bitcoin the first time.
In fact, as we have shown, it is not even that simple. You have to worry about the wallet, physically move around and check out the machine you are going to use.
Both in terms of cost and convenience, it is much more efficient to use an online exchange.
Here are all the advantages of Young Platform in particular:
No need to manually transfer purchased bitcoins to a wallet as it is an included and automatic service.
Large number of cryptocurrencies available
If you have any questions or concerns you can refer to the appropriate guides or contact support
You can trade directly from your smartphone or computer, wherever you are
Fees are much lower and can be lowered
The level of compliance and security is always high and documented
You can buy, sell, convert and transfer cryptocurrency with just one app
They are much easier to maintain and update, so the service is better
Additional information such as price charts and news on the cryptocurrency in question can be viewed at a glance while buying and selling, helping you to make informed purchases.
Conclusion
We can easily come to the conclusion that online exchanges are more convenient than Bitcoin ATMs, however, they are not to be dismissed completely, as their tangibility may encourage many people to try cryptocurrencies, and certainly seeing a yellow box on the street with a bitcoin symbol on it may intrigue tourists or passers-by to stop by. In short, let's look at the bigger picture and consider that anything that helps to bring people closer to cryptocurrencies is good and somehow useful.
But let's remember our mantra, for those who are not yet experts in the field: before you try anything, DYOR.