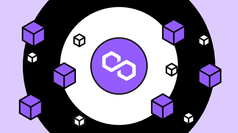 Jaynti Kanani, Sandeep Naiwal and Anurang Arjun are the founders of Polygon and protagonists of a series of remarkable entrepreneurial successes collected in recent years. In this article you will discover who the 3 co-founders are and what led to the birth of an ambitious project such as the one behind the MATIC cryptocurrency.
Who Jaynti Kanani is
Entrepreneur Jaynti Kanani was born in India on the outskirts of the city Ahmedabad. 
Jaynti was born into a relatively poor background as his father worked in the mines as a diamond mining labourer. Despite this, the entire family sacrificed and went into debt to give Kanani the chance to study and emerge, which he did, as he is now a billionaire entrepreneur.
After completing high school, he attended a prestigious Indian university, Dharmsinh Desai University, where he obtained a bachelor's degree in 2011 in computer engineering.
The unfavourable economic conditions made Kanani, after graduation, immediately dedicate himself to work as a programmer at Persistent System, during which time he discovered and became interested in blockchain technology and the potential of Bitcoin. Some time later he collaborated with startups in the cryptocurrency sector (Function Space and Housing.com) and at the same time tried to develop apps to facilitate the movement of money around the world.
In 2017, he founded Matic along with Sandeep Nailwal and Anurag Arjun. Kanani got to know them and work with them on various projects, initially shared the vision of what would become Polygon and then in early 2018 they started planning the entire ecosystem together.
Who Sandeep Naiwal is
An Indian entrepreneur, billionaire and software developer, he was the founder of the famous India Crypto Covid Relief Fund, a fund set up in 2021 with the aim of helping the huge Indian population affected by COVID-19, where donations were made via a specially created multi-signature wallet on the Ethereum blockchain.
Naiwal obtained an MBA in 2014 with a focus on supply chain management from the prestigious National Institute of Engineering in Mumbai.
His working career began as a programmer at Deloitte, one of the "Big4" companies in the consulting industry. Between 2015 and 2016 he was the chief technology officer and supply chain manager for Welspun Group, an Indian multinational in the steel, energy and textile industry. His career as an entrepreneur began shortly after, precisely in early 2016, founding the startup ScopeWeaver which has become the largest platform for professional services in India.
In 2017 he became interested in cryptocurrencies and in the same year he joined the founding team of Matic where he took the position of COO of the project. 
Who Anurag Arjun is
Also originally from India, Bengaluru and a billionaire through his cryptocurrency business, he is one of the co-founders of Polygon.
He studied and graduated from Nirma Institute of Technology in computer engineering. He started his career earlier than his peers, working at Cognizant in 2006 and a couple of years later as a product manager at Dexter Consulting for the next 5 years.
His entrepreneurial career began with the founding of HealthTrac and HealthOne, two startups active in the health sector. The former provides services dedicated to monitoring parameters acquired through wearable devices, while the latter offers specific services for doctors.
Anurag joined Matic in 2017 where he became the product manager and was responsible for drawing up the project roadmap, managing the team and the integrations between Polygon itself and the other dApps.
From Matic to Polygon
The idea to create Matic was born during the famous "CryptoKitties" period, one of the first NFTs to become popular among enthusiasts.
CryptoKitties took off in late 2017 and early 2018, the highlight of this event was that it managed to flood the entire Ethereum blockchain due to the very high number of transactions causing numerous disruptions and a growth in costs per transaction.
According to Polygon's founding team, blockchain technology is one of the greatest inventions in modern history, allowing the creation of a system through which groups of people (who do not know each other) can create relationships without the need for intermediaries or guarantees.
Kanani and his colleagues realised that the cryptocurrency world and its users were in dire need of a very important feature – scalability, so they decided to create their own project with the aim of solving this problem. The secondary goals, which are very ambitious and useful for the cryptocurrency industry, are to ensure low transaction costs, high speed and general usability of the dApps on Ethereum. Music to DeFi's ears!
If the Matic protocol was born as a solution to save on Ethereum transactions, in February 2021 it changed its name to Polygon, to reflect the new prospect of becoming a true Layer-2 aggregator that could accommodate the entire Ethereum-compatible ecosystem and beyond.
Scalability according to Polygon
Polygon is a project that aims to provide the scalability necessary for Ethereum's blockchain to be easily used every day, including through the numerous dApps that are populating its ecosystem.
MATIC is an ERC-20 token, thus based on the standard developed by Ethereum, but used on its own parallel blockchain. On this parallel chain, transactions are processed quickly and cheaply. The idea is to use this secondary chain to perform the transactions required by applications based on the Ethereum protocol. Ethereum in this scenario only provides Polygon with the basic infrastructure. The compatibility with Ethereum has thus enabled many apps to migrate to the Polygon network and scale their product.
Interoperability and usability
Scalability is usually only really achieved when a protocol manages to integrate with all similar and complementary services around it. Polygon in particular offers the possibility to easily develop Ethereum-compatible blockchains. The developers of the project have provided tools and packages, which are very easy to set up, that allow those interested to quickly create new Ethereum-compatible blockchains.
One of the most important elements in this respect is the Plasma technology, which allows the creation of a "child" chain of Ethereum, separate but at the same time connected to the main one.
In essence, Polygon's network is an aggregator of parallel blockchains based on Plasma, but with a twist that makes it more autonomous: transactions can also be executed on Polygon's secondary blockchain alone, without going through Ethereum's network. This allows for a low transaction cost and high speed.
This Plasma application is fundamental to the growth and use of apps, and it is through these features that Polygon focuses on usability for both developers and users as a direct result.
The influence and success of the 3 founders on the crypto market is quite concrete. Polygon's practical and immediate solutions have brought relief to all participants in the industry, whose growth was inhibited by Ethereum's limitations.