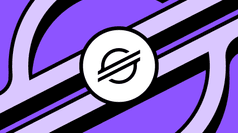 In this article, we find out more about Denelle Dixon, CEO and executive director of the Stellar Development Foundation. This is a non-profit organisation that supports the growth and development of Stellar (XLM), an open source blockchain network. Denelle Dixon, former Chief Operating Officer (COO) of Mozilla, is fighting for "net neutrality" and to make the cryptocurrency industry green, ethical and accessible – this is how Stellar was created.
Who is Denelle Dixon?
Nowadays, Denelle Dixon is a lawyer with a solid career under her belt, just as she dreamed of as a child. She was raised in Gilroy, a small town in Southern California, and already had clear ideas at 8 years old – she wanted to be the first in her family to go to college and then fight domestic violence with the law.
Having already decided on her path in childhood, she graduated from the University of California in 1992 with a degree in Political Science and later attended Hastings College of Law to become a Doctor of Law. In 1998 she got her first job at the law firm Folger Levin & Kahn, where she remained for about eight years. 
It wasn't until 2007 that the chance arose to launch herself into the field in which she is now an expert: Dixon was hired by Yahoo as head of legal services. In particular, she worked closely with other companies, leading a team of lawyers in the field of copyright, licences and to deal with certain disputes relating to the management of users' personal details. Subsequently, Denelle Dixon was appointed director of legal strategy on US soil for the private equity firm Terra Firma.  
These experiences helped her develop knowledge and clear positions on online data management, and a desire for a market that is more respectful of users' rights. In fact, in 2014, when she joined the team of consultants at Mozilla (the company that created the Firefox browser), she came out strongly in favour of net neutrality and the right of users to control their personal data. From Senior Vice President of Business and Legal Affairs, Dixon soon became Mozilla's Chief Operating Officer (COO), and pledged to ensure transparency, scrutiny and innovation for the platform's users, to achieve sustainable business. 
It was through this position that she stumbled upon cryptocurrencies, giving us the opportunity to talk about how both Stellar and the Foundation behind it came about. 
Net Neutrality
The concept of Net (or network) Neutrality expresses the values of an Internet open to all, regardless of the medium, application or platform used. According to the principle of Net Neutrality, Internet Service Providers (ISPs) must consider all types of communication as equal, thus avoiding to penalise certain types of users for the services and content they use.
How Stellar was created: Foundation and Blockchain
We could say that it was cryptocurrencies that found Denelle and not the other way around. "When I worked for Mozilla I spent a lot of time studying the Internet. That's how I started to dabble a bit in understanding the blockchain". For Dixon, this technology turned out to be a tool that could reshape the financial system – which, in her opinion, was unfair – so as to meet the most diverse needs of users (a lifelong battle of hers).
The growing interest in the world of cryptocurrencies led Denelle Dixon to take on the position of Chief Executive Officer (CEO) of the Stellar Development Foundation in 2019. The SDF is a non-profit organisation that supports the growth and development of the Stellar project, an open source blockchain network with its own cryptocurrency, Lumen (XLM). Stellar is designed to facilitate exchanges between fiat and crypto currencies, putting them into a single network that can support not only cross-border, but even global transactions.
SDF was founded in 2014 by Jed McCaleb, co-founder of Ripple, and lawyer Joyce Kim: they have since collaborated with large companies, such as IBM and Franklin Templeton, and various start-ups. The Stellar project aims to achieve 'global financial inclusion' through blockchain technology: its target is residents of countries with no access to financial services or with struggling economies, due to hyperinflation, for example. McCaleb found Denelle to be perfect for this objective, both human and economic, and thus chose her as CEO.
The foundation is based in San Francisco and employs over one hundred people. SDF supports the developers of the Stellar blockchain and holders of the Lumen cryptocurrency (XLM) in several respects: it provides business and legal assistance, as well as technological guidance. 
Denelle Dixon and Stellar: advocacy for women and marginalised people
We can appreciate the figure of Denelle Dixon because, unlike many other Crypto Heroes, she also reveals her everyday life and humanity. In this interview, she explains that during the pandemic, she continued to run every morning and read a lot, despite her hectic home life with her five children (aged between 11 and 20) and her partner.
Dixon's human side is also reflected in the Stellar project's qualities, which she addressed in the same interview: "There are companies in Africa that are building up on Stellar, solving problems such as the moving between regions of people who have been driven out of the country because of discrimination", through "a digital wallet that can be put on a mobile phone, so that they don't have to carry valuables or money. They will have them on their wallet, so they can access them from any place they get to". It is precisely the international money transfers open to the general public, the tools for refugees, and the resources provided to migrants that have motivated Dixon from the very beginning of her management. "This is what I mean when I talk about what's so great about the power of open source, the power of a permission-less blockchain – their focus on use cases". However, the story of how Stellar was created holds much more.
According to Denelle, in fact, Stellar's network can also be a resource for women, who are often excluded from certain sectors such as finance and technology, or even kept at the margins of society in some parts of the world. First of all, "what we know," she continued, "is that every time women have the opportunity to engage in finance and have access to financial instruments and products, the GDP of their respective countries improves. However, many women are precluded from such opportunities: "they are not involved in the traditional work structure, so they do not have the tools to access a bank account" that would allow them to take advantage of "financial products and services, so that they are able to access their own personal way of creating wealth" and "contribute to their family and local economy". Through the Lumen cryptocurrency (XLM), the Stellar network seeks precisely to preserve the fruits of their labour by tokenising any currency and asset on a 1:1 ratio with the dollar or other local currencies, but, most importantly, it provides access to the world economy, without geographic limits or long waits.
Stablecoin and CBDC: regulations and inclusivity
Denelle Dixon is very active on her Twitter profile, where she proudly updates followers on the achievements and collaborations of the Stellar project; however, she does not shy away from commenting on the big issues in the blockchain landscape. In this regard, she was quick to comment on the European Parliament's approval of the MiCA law: in particular, she praised the leadership role taken by Europe in crypto regulation, urging the US to take the lead, not only in stimulating financial innovation, but also in maintaining leadership in this area. 
Furthermore, in the tweet thread, she mentioned the high standards imposed on stablecoins, a topic dear to Denelle Dixon, which she had already addressed in connection with the failure of the Terra-LUNA project. Indeed, in May 2022, she formulated a definition of stablecoin, listing a number of criteria:
If a token is not backed by a reserve of fiat currencies, be they dollars, euros or pesos, then it is not a stablecoin
If the reserves under which the token is issued are not transparent, i.e. clear about their composition, then it is not a stablecoin
If the token is not willing to be audited, i.e. checked by a third party who can attest to its reserves, then it is not a stablecoin.
Denelle Dixon thus states the need to turn these points into requirements, in order for regulation to protect consumers by clearly defining the nature of stablecoins.
In the same spirit of inclusion for people who find it difficult to fit into the global economic system, Denelle Dixon showed her support for Central Bank Digital Currencies (CBDC), i.e. digital currencies issued by a Central Bank, therefore peer-to-peer but far removed from the decentralisation of cryptocurrencies. CBDCs are a new technical form that fiat currencies can take, and are therefore regulated by their respective governments just as physical currencies are. 
Contrary to the rest of the crypto sector, Dixon has indeed supported this new payment option, stating that she is cooperating with traditional finance institutions to explore CBDCs. In fact, Dixon sees them more as a complement to existing fiat currency services such as stablecoins, bank transfers, credit cards and cash. This is because the ultimate goal, according to her, is to achieve a financial system that serves everyone, the same goal as the Stellar project.
Three is a Magic Number: Stellar's future
In a post on the Stellar blog, Dixon has summarised the past, present and future of her three years as head of the Stellar Development Foundation, giving us an insight into how Stellar was born and how it will evolve.
Titling her contribution '3 is a Magic Number', Dixon takes us through the three phases of the Stellar project. At the beginning, Denelle and the Stellar team focused on defining the structure, strategy and role of the foundation in the broad crypto ecosystem. She then decided to gear the entire process towards transparency and clarity, thus building annual roadmaps with constantly updated targets towards the grand goal of financial inclusion. 
However, to achieve solidity, the project also signed agreements with other blockchain players. Indeed, it soon integrated the USD Coin stablecoin into Stellar's network, so as to provide USDC with a fast and low-commission network. Furthermore, the SDF decided to establish the Enterprise Fund, so as to support the construction of innovative projects on Stellar's network. This led to the creation of various products, including an Automated Market Maker (AMM), but, most importantly, it stimulated Dixon to share Stellar's use cases with the vast crypto community. This path led her all the way to the US House Committee on Financial Services conference, where she has given lectures and presentations on digital assets.
These achievements have made her particularly enthusiastic and aware of the advantages of Stellar's blockchain: "fast, convenient, interoperable and efficient", as a network capable of providing access to cryptocurrencies and the economy for millions of people must be. Stellar's future, as she says, will be characterised by a focus on smart contracts, an additional tool for inclusivity in her view. This choice represents a radical change from the initial design of the blockchain, which was not intended to host decentralised applications, but Project Jump Cannon will precisely aim to implement smart contract technology in Stellar.  
Moreover, if Stellar's intention is to provide its services to an increasing number of users, it will have to deal with issues of scalability, e.g. transactions per second. In fact, Dixon recalls the bridging projects already underway and Stellar's desire to combine scalability with low fees. 
In conclusion, Denelle Dixon decided to represent the future herself, even before she was CEO of SDF: she created the 'block by block' podcast, to discuss the crypto world day by day. If she could interview herself as a child, what would she say? Is her dream of justice becoming a reality?