Esteban Ordano and Ari Meilich: the brains behind Decentraland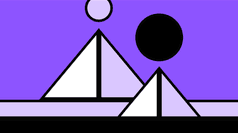 Esteban Ordano isknown in the cryptocurrency world for being among those who created Decentraland, a metaverse built on the Ethereum and Polygon blockchains. The project, whose development was led by Ari Meilich, consists of a decentralised virtual world where users can share and monetise their content. But who are Esteban Ordano and Ari Meilich, and how was Decentraland created?
Who created Decentraland?
The argentinian computer scientists Esteban Ordano and Ari Meilich are the founding fathers of Decentraland. The metaverse, in the works since 2015, raised more than $24 million (86,260 ETH) in August 2017 through an ICO. The offering sold more than one billion MANA (the project's ERC-20 token), priced between $0.024 and $0.04. The 'packages' of 1000 tokens each were sold out in just 35 seconds!
Let's find out more about how Decentraland was created, and explore who Esteban Ordano and Ari Meilich are: the creators of the MANA metaverse.
Esteban Ordano's story: from BitPay to Decentraland
Esteban Ordano conducted his studies at the Faculty of Software Engineering of the Technological Institute of Buenos Aires (ITBA), his hometown and place of birth. Although ITBA is a small university, with around 1650 students, it is considered one of the best engineering schools in Latin America.
In 2012, shortly after his graduation, he started working at Google as a site reliability engineer intern, until he took on the role of software engineer intern in 2014.
Fun fact
Site Reliability Engineering (SRE) concerns the creation of reliable and scalable websites through software engineering techniques. This task was first introduced by Google in 2003.
In addition, from 2010 to 2013, Esteban worked as a Project Manager and Technical Leader at Monits, specialising in creating software for mobile technologies and platforms, and was also a teaching assistant at ITBA until 2014
Ordano's first encounter with the world of blockchain world came in 2014. In that year, he began working as a software engineer for BitPay, a company that provides payment services in cryptocurrencies, in particular for Bitcoin. During his time there, the computer scientist worked on open-source projects, such as 'Bitcore' and 'Copay Bitcoin Wallet'.
Ordano then founded Smart Contract Solutions, a company for the development of smart contracts, where he worked until 2016. He was also a consultant for Matic until 2021, but only after Decentraland was established.
As early as 2015, Ordano began working with Ari Meilich on their metaverse. Ordano was the Chief Technology Officer (CTO) from the beginning. He left the position in 2020 to take on the role of consultant, following the platform's transformation into a decentralised autonomous organisation (DAO).
Who is Ari Meilich: from Decentraland to Big Time
To fully discover how Decentraland came into being, it is not enough to just know who Esteban Ordano is. Ari Meilich was also instrumental in the creation of this metaverse. He took a different academic path than Ordano: initially enrolled in the Philosophy course at the University of Buenos Aires, he then moved to study in New York. At the same time, he started using Bitcoin to circumvent stringent American laws and set up businesses while attending college. It was the freedom offered by blockchain technology that inspired him and brought him among the members of Voltaire, a hacker group in Buenos Aires where he met Esteban Ordano.
After receiving his Bachelor of Science from Hunter College and doing some research in Neuroscience and Neuroeconomics at NYU, he started working in 2015 as a market analyst at Charles River Ventures (CRV), a well-known venture capital firm.
He soon turned to entrepreneurship, creating many businesses, including an online translation agency and a CRM platform (Benchrise). He then signed on as one of the founders of Decentraland, where he was project leader until 2020. Afterwards, similarly to Ordano, he disengaged from the project and maintained only a role as a consultant.
Customer Relationship Management (CRM)
CRM or Customer Relationship Management is a method for managing the relationship between a company and its customers. Through CRM, companies analyse large amounts of information in order to improve customer relationships and make them lasting. They can then organise marketing strategies with respect to the values of the user and the environment in which he or she is embedded. 
Ari Meilich then moved on to another project : Big Time Studios, an NFT-based video game company that he created alongside the game designer Thor Alexander. Big Time will be an online RPG, an eponymous video game with in-game purchases of NFTs. The company has involved several giants of the gaming industry in the development of the project: Epic Games (Fortnite), Riot Games (League of Legends) and Electronic Arts (Fifa); the studio's goal, as the founder stated, is to 'create AAA games with cryptocurrency and NFT technology'.
Tiple A (AAA)
The 'triple A' (AAA) classification is an unofficial label used to indicate video games with high development and marketing budgets.
How was Decentraland created? The reasoning behind the project
Following the ICO, the 'Genesis City' auction was organised on the 15th of December 2017. It went down in history as the 'Terraform Event', where 90,000 land squares (LAND) belonging to the first area of the metaverse were sold for 1,000 MANA tokens each (about $20). Each LAND is an NFT and 40,000 were used to create themed 'districts' as suggested by the Decentraland community. In March 2018, the Decentraland Marketplace was then released, so that players could sell (or buy) LAND plots in Genesis City, as well as providing opportunities to explore the area in the metaverse map.
In June 2019, the 'closed beta' of the Decentraland World Explorer was launched to test the potential of the blockchain metaverse. It was then opened to all users in February 2020. From the outset, the development was supported and supervised by the Decentraland Foundation. It holds 20 percent of MANA's supply (561.2 M), the same share as the fund intended for the community.
Esteban Ordano is a great believer in the name 'Decentraland' and what it represents: a truly decentralised metaverse. Through his Twitter account, he reiterated the concept: if the servers of a metaverse are hosted by one company, then it will inevitably be centralised. In the tweet thread, Ordano goes on to state that Decentraland is the only decentralised metaverse, the only one that can truly call itself a Web3 platform, as distinguished from centralised Web2 applications that simply use NFTs.
In Scott Melker's podcast, a very influential popularizer in crypto ('the Wolf of All Streets' on Twitter), Ari Meilich stated that he believes in defining the metaverse as a blockchain-based virtual world where 'users want to be in control of their online identities and their properties or in-game assets'. However, Meilich also explained in the interview that the metaverse, in his opinion, will not become a 'place where we spend all our time working and interacting in a 3D virtual world' because this often does not constitute the right interface. Meilich gives the example of instant messaging, which works best on the two-dimensional screen of our mobile phones: the metaverse is rather 'a set of experiences, each of which responds to a particular use case', precisely what Decentraland is based on.