What is Web 3.0 and how does it work?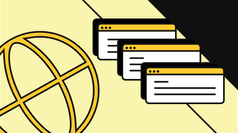 HTML (HyperText Markup Language), the formatting language of the web.
URI/URL (Uniform Resource Identifier or Locator): a unique address for locating resources on the web. It is the 'link' to online sites, a string that includes the Internet domain.
HTTP (HyperText Transfer Protocol): the protocol for retrieving the contents of Internet pages from servers, cooperating with TCP/IP.
Web 2.0 problems beyond data