Anatoly Yakovenko's brilliant idea for Solana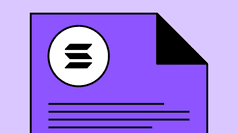 Anatoly Yakovenko, the creator of Solana's innovative Proof-of-History protocol, is an engineer as brilliant as he is secretive. Although he does not fit the beach boy stereotype, it is his surfing background that gave the blockchain its name.
The American Dream: soviet Anatoly
Anatoly Yakovenko's date of birth is unknown, much of his private life is shrouded in mystery, as befits an expert in cryptography. Nevertheless, we can trace his former Soviet origins to what is now Ukraine.
His story tells of the "American dream" from the perspective of a gritty immigrant with a passion for hard work. In fact, the Soviet boy, with the stereotype of the "businessman" in his head, made his first entrepreneurial experience already in his college days, creating the start-up Alescere, which unfortunately did not survive the Dot-com bubble.
The project, which closed in 2003, concerned VOIP (Voice over IP) technology, i.e. the transmission of voice over the Internet, which we still use today for calls. The interest in protocols (SIP and RTP) and p2p connections would come in handy for the creation of Solana.
Fun fact
The dot-com speculative bubble, between 2000 and 2001, involved most of the nascent companies in the internet-related sector. The market of reckless investors, carried away by their faith in technological progress, overestimated the potential of some projects, prompting the exorbitant growth of the shares. This rapid price increase, which turned out to be insubstantial, followed the imperative to "get big fast" – expand or fail. As the bubble burst, many companies went bankrupt, but some were able to rise from the ashes and become market leaders in the following decades, such as Amazon.
The Qualcomm days
Graduated in Computer Science from the University of Illinois (Urbana-Champaign) in 2003, he began his engineering career at Qualcomm, which continued until 2016.
Among the many products and services developed, we can mention Augmented and Virtual Reality applications, 3D cameras, mobile operating systems and components for Push2Talk services.
Before founding Solana Labs in 2017, he worked as a Software Engineer at Mesosphere, now D2iQ, and Dropbox, focusing mainly on the development of distributed systems.These experiences, as the "history" section of solana.com explains, taught him that "a reliable clock makes network synchronization very easy."
Proof-of-History: time is relative to SHA-256
Suddenly, an idea popped into Anatoly's head: using Bitcoin's SHA-256 cryptographic hash function to overcome blockchain scalability limitations. This would save the time required to reach consensus on the order of transactions.
His timing protocol, called Proof-of-History (PoH), assigns a cryptographic timestamp to each of the transactions, so as to "keep time" according to a unique and artificial reference system.The description of the PoH protocol is organised in a whitepaper, published in November 2017. This innovation will make it possible to exceed the 6-15 tps (transactions per second) of blockchains such as Bitcoin and Ethereum, without resorting to sharding or Layer 2 solutions such as the Lightning Network.
The PoH will make Solana scalable and competitive for centralised payment systems such as Visa, which can support 65,000 tps, by "simply" agreeing on the time order between nodes.
Solana: the blockchain born between silk and sea
So Anatoly, Greg FitzGerald and Stephen Akridge, two colleagues from Qualcomm, together with 3 other engineers (from Google, Microsoft and Apple), built a prototype blockchain they called Silk and founded the company Loom, planning to weave all the world's transactions into a single blockchain.
Around the same time, however, another project with the same name, a Layer 2 for Ethereum, was released. The team, therefore, decided on a rebranding operation: on 28 March, the organisation appeared as Solana Labs on GitHub, renaming the Silk project to Solana.
Solana's whitepaper, which had been continuously updated since the first implementation, features several consensus mechanisms and innovative protocols: Turbine, Gulf Stream Protocol, Sealevel, Pipelining Infrastructure, Cloudbreak Protocol. These curious names all belong to the semantic field of water, why?The origin of Solana is the sea at Solana Beach, a town north of San Diego, California, where Anatoly and colleagues Greg and Stephen lived and surfed during the three years they worked together at Qualcomm.
The "biodiversity" of the Solana ecosystem
The beta version of the Mainnet, Solana's main network, was launched in March 2020 and has been under constant development and update ever since.
Initially, it was only possible to carry out transactions and support simple smart contracts on Solana. Today, however, many functions are available, including staking rewards (from 11 February 2021), as well as a sea of dapps built thanks to its protocol.These include DeFi projects such as Mango, Orca and Serum, an ultra-fast decentralised exchange (DEX) founded by Sam Bankman-Fried (CEO of Alameda Research), an early supporter of Solana.
Solana's ecosystem is also populated by lending protocols (Apricot Finance, Solend and many others), marketplaces for NFTs (Solanart, Solsea, Magic Eden and others) and Web3 applications such as the Brave browser and Grape, a protocol for building token-based communities.
Solana itself, like Avalanche, invests first and foremost in innovation and decentralised technologies, which is why "The Solana Foundation" was created on 8 April 2020.
The Solana Foundation: mission freedom
Solana Labs transferred 167 million SOL, along with all protocol-related IP addresses, to the Solana Foundation, announcing the birth of the organisation. The Solana Foundation's funds are used to organise marketing campaigns and incentives to support and further develop Solana.
Anatoly Yakovenko, in fact, as president of the Solana Foundation, has a clear vision: a decentralised world, where individuals can be masters of their own data and managers of their own finances, being able to transfer value through the Solana network, independent of third parties.
Recalling the birth of the WWW (World Wide Web), Anatoly explains how the initial idea of freedom, sharing and trust was traded for the security and authority of centralised systems. According to Solana's CEO, digital equality, privacy, resistance to censorship and accessibility to services can only be guaranteed by decentralised technologies, thus renewing the original idea of the web.
This desire for global liberation fuels the commitment of the Solana Foundation, which therefore accelerates the innovation of the protocol and the expansion of the Solana network through the following initiatives:
Incentives to populate Solana's sea with more "fish" and welcome other projects to its harbour
Education on decentralised technologies
Protocol development and enhancement to ward off hackers and open routes to other interoperable blockchains
Research on topics critical to decentralisation, such as cryptography, consensus algorithms and governance
Where everyone sees pools Solana sees the sea, ready to set sail?