Andre Cronje: The Creator Of Yearn Finance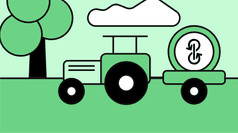 Andre Cronje is best known for creating the famous Yearn Finance and Keep3rV protocols, and for being one of the most influential people in the DeFi space.
Andre Cronje before crypto
Andre Cronje was born in Cape Town, South Africa. The date of his birth, however, is still unknown. What we do know, however, is that after putting aside a law degree from Stellenbosch University in 2003, Andre Cronje turned to computer science. In just six months he completed a course that should've taken three years. It is an impressive achievement that earned him a position as a teacher at the Computer Training Institute.
Here he tutored Computer Science, Graphics and Law for about a year. Then he started working as a programmer in different companies until 2017.
Andre Cronje after crypto
Andre Cronje first learned about cryptocurrencies in late 2018. He started working as a Blockchain expert at BitDiem, and then held the same position at a second company, CryptoCurve, some time later. Intrigued by the rewards of stablecoin lending, the coder became interested in DeFi.
Creating Yearn Finance
During his years spent studying cryptocurrencies, Andre Cronje perceived the need to create a simple and intuitive yield farming project in the DeFi sector. So he put his skills and savings into creating the yearn.finance protocol. However, he did not rely on a team of experts to set up the software, as others had done before him.
He developed it all by himself and launched it in February 2020. Yearn Finance is a protocol that runs on the Ethereum and Fantom blockchain, it is a DeFi platform that, at base level, offers users the ability to earn percentage rewards on their cryptocurrencies, automatically moving them to platforms with higher rewards.
Meanwhile, Cronje was gaining popularity in the industry, thanks to its code-reviewing skills. So many cryptocurrency enthusiasts began relying on him that Andre Cronje could make or break a crypto project with his opinion alone.
Yield Farming
Yield Farming includes all those instruments that allow you to farm rewards by committing cryptocurrencies into dedicated protocols.
The YFI token
After creating the platform, Andre Cronje went on to design the YFI token. He farmed it like any other user right on yearn.finance, refusing to keep any coins for himself before the official launch. This happened in July 2020 and, just one month later, the token's market capitalisation exceeded $1.1 billion.
Yearn Finance partnerships
This is how Andre Cronje attracted the attention of Aave and Curve Finance, who decided to collaborate with Yearn Finance.
Cronje then teamed up with Hegic, an options trading platform on-chain, and then added Cover, which guaranteed users insurance for token losses.
After a successful period of collaboration, however, Yearn and Cover split over conflicts of interest related to new rules on the Cover platform. So Andre Cronje moved on to Cream Finance, a lending protocol, and then Akropolis, a yield farming platform.
The latest innovation announced by Andre Cronje is in 2021. We're talking about yCredit, a new lending protocol in the yearn.finance ecosystem whereby those who deposit ERC-20 tokens have a credit line of yCredit tokens for 99.5% of the amount deposited.
Keep3r and Fantom
Meanwhile, the developer founded Keep3r. It is a network designed to connect employers and junior coders to help them develop smart contracts and blockchain protocols. Both parties receive rewards when they decide to work together, thus speeding up projects' growth. For example, the network is also useful to yearn.finance itself, which does not have a company behind it and needs to attract a workforce.
The working relationships are regulated by the KP3R token, which, shortly after its launch on Uniswap, saw its value increase by about a dollar a minute. The token has not only an economic value: the more KP3R a user has, the higher his reputation on Keep3r. This gives them access to more prominent job offers.
Andre Cronje also became chairman of the Technology Council of the Fantom Foundation based in Seoul, South Korea. This is a society that brings together experts from different disciplines, such as engineering, science, entrepreneurship, and aims to foster the development of the Fantom Blockchain.
Andre Cronje thoughts and actions
Although Andre Cronje describes himself as "just another DeFi developer", the facts say otherwise.
First of all, he has a very personal approach to software development. On his Twitter profile we read the motto of his working method: "I test in prod". In other words, he tests his products directly on release, with all the risks that this entails. It may seem like an over-the-top attitude, but it certainly furthers DeFi's aim to innovate and improve at maximum speed.
In an interview, he described himself as an "integrator", i.e. a type of programmer who is good at putting the pieces together, rather than developing ingenious or complex protocols. This is probably due to his multidisciplinary background.
For the same reason, he is passionate about cryptocurrencies: they are often referred to as "money legos" because of their programmability and composability.
You can build all kinds of services and applications around cryptocurrencies just like you can build anything with legos.
As we have seen, Cronje enthusiastically supports a lot of projects, but is also not afraid to criticise the industry or even conceptual pillars such as decentralisation.
One of his many unpopular opinions concerns in fact decentralisation. Paraphrasing one of his tweets, Cronje perceives decentralisation to be an unattainable ideal, used to criticise any project on the grounds that "it is never decentralised enough".
He, therefore, is in favour of talking about Open Finance or Web3 Finance instead of DeFi, adding that it is possible to have a censorship-resistant system even without total decentralisation.
Speaking of decentralisation, he also questions the DAO model. However, this did not stop him from coming up with a solution to manage DAOs payrolls, called Coordinape, originally created for Yearn Finance's DAO.
The fact that he deconstructs with his words the decentralisation maximalists, does not hinder his tangible actions and contributions in the full spirit of open finance. In fact, let's remember that YFI was launched directly in a fair and public way, without allocating any tokens to Cronje and without any pre-mine, any VC or any team being involved. It is rare to find such a transparent and community-friendly launch in the crypto market.
Andre Cronje has therefore managed to establish himself in the DeFi space as one of the most influential personalities thanks to his unique vision. It is to his ability to experiment and identify good projects that he owes his success.